Film screening
"In No Great Hurry –
13 Lessons in Life"
A film by Tomas Leach (Producer and Director), 2012,
GB/USA, 75 min
Wednesday, February 11, 2015, 8 pm and Wednesday, February 25, 2015, 8 pm
Location: Fotografie Forum Frankfurt
Admission: 6 EUR, for FFF members and students with valid ID 3 EUR reduced; combined ticket (exhibition+film): 9 EUR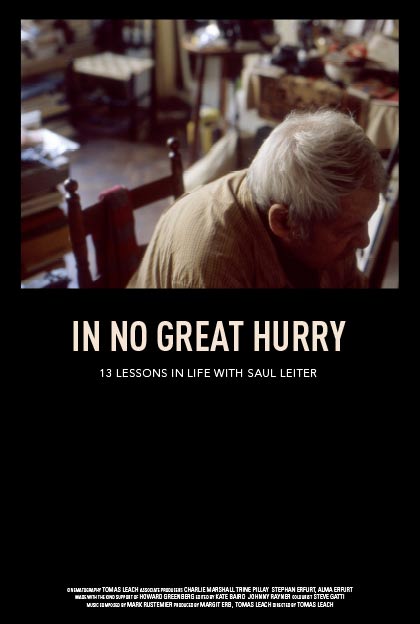 Saul Leiter, son of a well-known Talmudic rabbi and scholar, was born in Pittsburgh in 1923 and has lived since 1946 until he died in 2013 in New York. He could have been lauded as the great pioneer of colour photography, but was never driven by the lure of success. Instead he preferred to drink coffee and photograph in his own way, amassing an archive of beautiful work that is now piled high in his New York apartment. In a funny, intimate and moving film, "In No Great Hurry" follows Saul as he deals with the triple burden of cleaning an apartment full of memories, becoming world famous in his 80's and fending off a pesky film maker.
The film will be shown in English.
Tomas Leach is a documentary and commercials director based in London. Having worked at Fabrica, Benetton's creative institute, he started directing commercial work for Adidas, BMW, Powerade and the BBC amongst others. Tomas creative directs a series called "Little Scraps of Paper" about creative people and their notebooks. "In No Great Hurry" is his first feature length documentary.