GALLERY TALK
"hello camel"
Christoph Bangert, DE
Wednesday, February 17, 2016, 6 pm
Location: Fotografie Forum Frankfurt
Free admission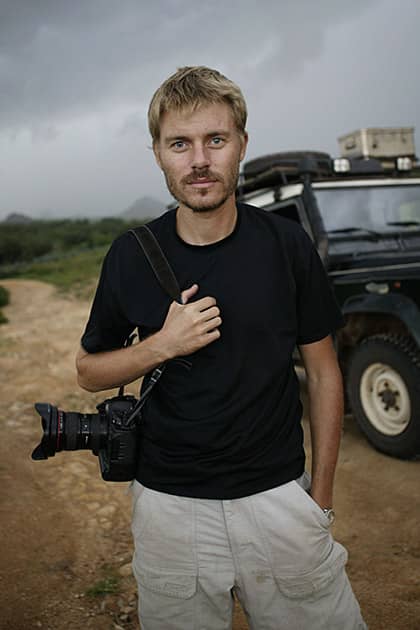 Photo: Christoph Bangert, Rumsiki, Cameroon, © Chiho Bangert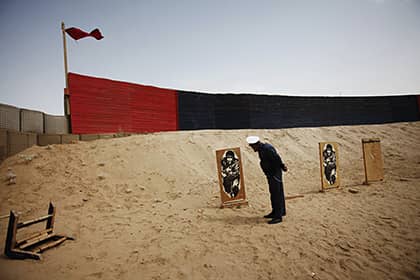 Photo: An Afghan policeman is checking out the targets during a training session at Camp Nathan Smith in Kandahar City. Kandahar City, Afghanistan,
2010 © Christoph Bangert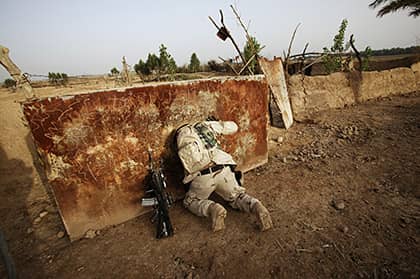 Photo: An American soldier of the 2nd Battalion, 34th Armor Regiment out of Fort Riley, Kansas assigned to 3rd Brigade, 3rd Infantry Division under the command of the 42nd Infantry Division based at Forward Operation Base Gabe, looks for weapons and bomb making materials in a disused water tank during an operation. Tel Sokhayr, Dyala Province, Iraq,
2005 © Christoph Bangert
Christoph Bangert (*1978) is a German photographer, specialized on war and conflict photography. Besides his work as a photographer Bangert's photo books go beyond the mere documentation of battle and hostilities. In his publication Iraq: The Space Between (powerHouse 2007) the theme of authorship and photography is questioned. Which position is taken by photographers in crisis areas? How can the photographer "reveal" more than the visible? Bangert's probably most known publication War Porn (Kehrer 2014) cross-examines the act of (self) censorship. In this context his choice of the photo book format is best revealed. In this tiny book, a collection of photographs are presented, which are hardly bearable for the observer's eye because of their brutality. The display establishes an intimate dialogue between the author and the recipient. His newest and not yet published book hello camel (Kehrer 2016) evolves around the absurdity of war and the everyday routine of war.
In this gallery talk Christoph Bangert will give insight into his work as a photographer and author. Concentrating on his upcoming publication hello camel (Kehrer 2016) Bangert will show his photographs as well as talk about the creation of the book and the editing process.
This talk will be held in German.
Christoph Bangert (*1978) studied photography at the University of Applied Science and Arts in Dortmund and at the International Center of Photography in New York. After his studies he began working as a photojournalist for different magazines and journals like the New York Times or the Neue Zürcher Zeitung. Photo-Essays on Afghanistan, Pakistan, Darfur, Lebanon and Iraq have been published. Christoph Bangert was awarded a World Press Photo Award Honorable Mention in 2008 for his work in Afghanistan, the POYI Award of Excellence and was selected for the Joop Swart Masterclass in 2007. His photographs have been exhibited in Germany, New York and Switzerland. Christoph Bangert lives with his family in Cologne.
www.christophbangert.com
An event in cooperation with Johann Wolfgang Goethe-University Frankfurt am Main / Institute for Art Education, Visual Culture Studies, Prof. Dr. Verena Kuni, Sophie-Charlotte Opitz and FzHG Frankfurt Humanities Research Center.
www.uni-frankfurt.de
www.kunstpaed.uni-frankfurt.de
www.visuelle-kultur.info
www.fzhg.org